Posted July 29th, 2009 in Biodiversity
Posted July 1st, 2009 in Biotechnology
Posted June 17th, 2009 in Japan Resources
A quantitative analysis based on the Food Demand-Supply Table, the Guideline of Nutritional Requirement for the Japanese people, and the Local Production-Local Consumption principle
Toshiki MASHIMO
Paper presented at the World Foodless Day in Tokyo, October 16, 2008
The current world-wide food crisis has made it clear that the low Japanese food self-sufficiency ratio is the underlying cause of various food-related problems. As one of the fundamentals for our survival, food is more and more dependent on foreign political and commercial trends that are beyond our control. Also Japan hunting for food in other countries contributes to the tension on world food trade markets and tends to raise international food prices. Japan's food mileage, the world's highest, reaching 910 billion ton-km in total, and 7,110 ton-km/capita annually [1], is adding a large amount of CO2 into the global atmosphere. This paper looks at ways to improve Japan's food self-sufficiency from the consumer perspective.
Demand-side Approach
Motivated by a number of concerns, we attempted a quantitative analysis on to what level Japan's food self-sufficiency could recover. For this purpose, we used a static model based on the Food Demand-Supply Table (a statistic published by the Ministry of Agriculture, Forestry and Fishery), the Guideline of Nutritional Requirement for the Japanese (published by the Ministry of Health, Welfare and Labour), and the Local Production-Local Consumption principle.
Japan's food self-sufficiency ratio is estimated to be around 40% in 2007. Several estimates of Japan's potential food self-sufficiency have already been made, but in general, they have focused mainly on the supply-side, assuming selectively that the demand-side of food remains out of the policy scope. However, one of the main factors causing our low food self-sufficiency can be attributed to the over-consumption of meat and fat, items that are unsuitable for the Japanese farming conditions [2].
That is why we asked, "What if the Japanese dietary habit changed to one more healthy and more suitable for domestic production?" To do this, we decided to create a model on the basis of the demand-side approach, starting with our food consumption patterns, followed by the domestic food production efforts adapted to these patterns.
Three Patterns of Food Consumption
The first food consumption pattern we took as a model is a set of food intake and nutritional data recommended by the Ministry of Health, Welfare and Labour. This pattern has been created as the ideal for Japanese people to maintain their health, avoiding lifestyle-related sickness (MHWL pattern). The second pattern is a set of food requirements based on the daily meal menus organised specifically for our model by Setsuko Shirone, an expert of sustainable food consumption and organic agriculture. Let us call this Chisan-chisho pattern (LP-LC pattern), after a popular movement that encourages local production and local consumption in Japan.
Figure-1 shows the differences of the consumption of each food-group or item per day per person compared with the status quo (as of 2005). According to the MHWL pattern, the ingestion of grains, potatoes and vegetables would increase, while consumption of meat, milk products, sugar and fat would drastically decrease. Turning our attention to the LP-LC pattern, we note that this tendency is even more radical. The exception is the high amount of marine products intake that is still considered to be possible; all of this, however, consists of small fish and coastal fish, as well as continued consumption of other domestically available marine species.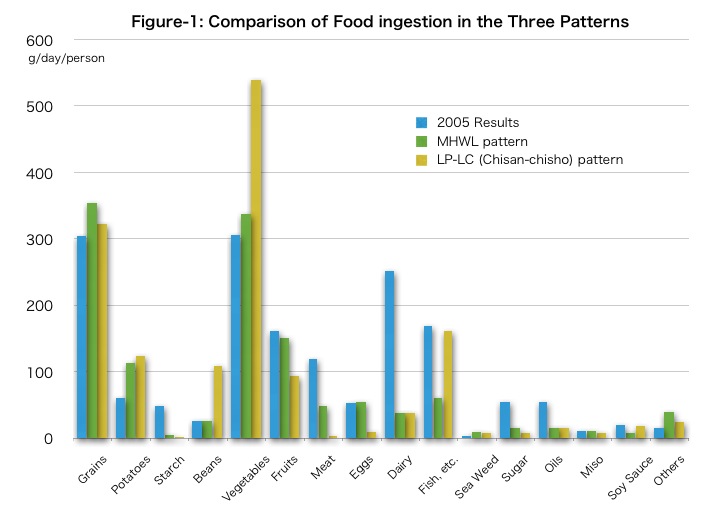 Posted June 10th, 2009 in Food Security
Posted May 20th, 2009 in Miscellaneous, Uncategorized