Consumers Union of Japan participated together with other Japanese NGOs at the large Planet Diversity conference in Bonn, Germany on May 12-16, 2008. It was a global congress on the future of food and agriculture, with a demonstration to celebrate biodiversity.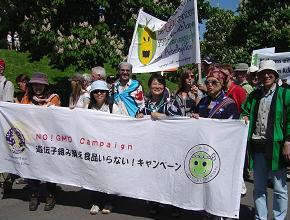 At the rally, anti-GMO activists including Percy Schmeiser and Vandana Shiva spoke to the 6,000 people who gathered from all over Germany and other countries for the event. At the workshops, participants discussed plant and livestock diversity, building knowledge around biodiversity, and key issues of the official biosafety negotiations held later in May.
Koketsu Michiyo from CUJ participated in the workshop on health impacts of GMOs organised by the Federation of Ecological Physicists, including Dr. Arpad Pushtai, who has a vast experience with GMO and has visited Japan. "We don't only need networks between people, but between people and plants, and people and planet earth," notes Koketsu-san from CUJ, who says she bebame aware of this during the six days in Bonn, Germany.
Read the full report here:
080617-cuj-planet-diversity-report (pdf)
Read more on the Planet Diversity website:
http://www.planet-diversity.org/home.html