Mizuhara Hiroko writes:
Ms. Urano Hisako, who supported the international activities over the past 20 years at Consumers Union of Japan, has passed away on 2009 December 14. She was only 60 year old. I first met Urano-san as Consumers Union of Japan planned its 20th anniversary in August 1989: When we started the work to prepare for the large Asian Pacific Consumers' Conference (APCC) held in Omiya, Japan, she began working as a volunteer at our office.
Urano-san, together with almost 50 other volunteers who were fluent in English, contributed to the success of the APCC, coordinating this large meeting as we welcomed 20 guests from countries in the Asia-Pacific region.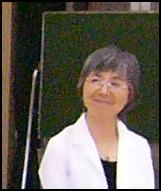 Urano-san took a great interest in the consumer perspective. She made it possible for Consumers Union of Japan to get involved with PAN AP, the Pesticide Action Network and IBFAN, the International Breast Feeding Action Network, that began cooporating with CUJ during the 1990s. Over the past 20 years, Urano-san continued helping other international solidarity networks.
In particular, it was Urano-san who made Japan Resources, our international newsletter, what it is today. Japan Resources compiles news about our activities in Japan and abroad in English. With earnest and joyful efforts, she greatly expanded CUJ's international cooperation and communication with many specialists and activists in other countries through Japan Resources.
She also led the coordination of CUJ's work together with Consumers International, the London-based federation of consumer organizations around the world, especially in the Asia-Pacific region.
Thanks to Urano-san, we now have several people at our office who are fluent in both English and Japanese. They are making every effort to continue publishing Japan Resources on the Internet and to take over many of her other tasks.
Dear Urano-san, we would like to thank you for everything you did. We will never forget you.
Mizuhara Hiroko