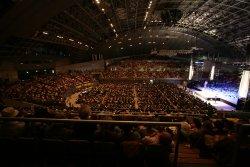 Ms. Yoko Tomiyama, CUJ's veteran activist and chairperson, participated in the huge Global Article 9 conference at Makuhari, Chiba on May 4-6, 2008.
A Declaration (pdf) was adopted by participants of the Global Article 9 Conference to Abolish War, endorsed by Nobel Peace Laureates Mairead Maguire, Jody Williams, and by the Nobel Women's Peace Initiative. To read all the outcome documents of the Conference, click here.
Global Article 9 Conference Statement (pdf) towards the Non-Proliferation Treaty PrepCom meeting in Geneva, Switzerland (April 28 – May 9, 2008)
Global Article 9 Conference Statement to the G8 Summit (pdf) taking place in July 2008 in Hokkaido, Japan under Japanese presidency
This three-day event attracted over 33,000 participants nationwide: over 22,000 in Tokyo, 8,000 in Osaka, 2,000 in Hiroshima and 1,000 in Sendai. Close to 200 international guest speakers and participants came from 40 different countries and regions to represent all continents at the conference.