By Tomiyama Yoko, Consumers Union of Japan/Co-chair of No Nukes Festa 2009
On October 3, 2009 a big manifestation with 7000 people from all over Japan met in Meiji Park, Tokyo for the No Nukes Festa 2009. The theme of the event was to highlight the links between nuclear weapons and energy production using nuclear power.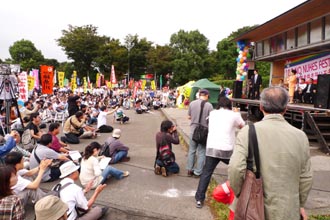 Speakers included local activists against controversial nuclear power plants aroud Japan, such as the Rokkasho reprocessing plant, the Hamaoka nuclear plants, the Kashiwasaki-Kariwa nuclear plants, and the campaign against high-level radioactive waste in Gifu prefecture.Victims from the accident at JCO in Ibaraki talked about the risks and participants heard an emotional appeal from peace activists and cyclists who noted the sense of insecurity among people living near nuclear facilities, and their concern for their health and the environment
Appeal for Energy Policy
Satoshi Kamata, writer and co-chair of the No Nukes Festa, made an appeal for a conversion of the national energy policy with full participation of the people, and from Fukui, calls were made to reopen the discussion of all the problems related to the plans for the Monju fast breeder reactor in the prefecture. A number of politicians including Kumiko Aihara, Mizuho Fukushima, and Masahiko Kondo participated, and we had an opportunity to tell Ms. Fukushima, who is Minister of State for Consumer Affairs and Food Safety, Social Affairs, and Gender Equality, about the need for strict safety guaranty and standards to protect power plants against earthquakes. Indeed, the new government will have a lot to do.
Lawyer Koji Asaishi who represents plaintiffs from Aomori prefecture talked about the reprocessing problems at Rokkasho. We also heard about the issues emerging in Saga prefecture, where the Genkai nuclear plant will accept MOX fuel for its pluthermal program. Activist blocking Chugoku Electric Power Co. from building a nuclear power plant in Kaminoseki in Yamaguchi prefecture, also spoke about their bold struggle to protect the hearts and minds of the people living in this beautiful part of the Seto Inland Sea.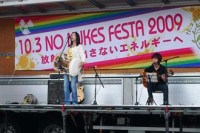 Ohbayashi Mika from Office Ecologist, an anti-nuclear NGO, proposed "Together with our children, we go towards the future" as the action appeal of the demonstration, as the 7000 participants started marching towards Yoyogi Park.