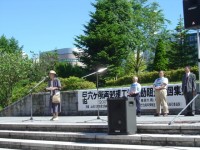 Rokkashomura Call for Action (pdf)
The National Network to Stop Radioactive Pollution from the Rokkasho Reprocessing Plant and Consumers Union of Japan have issued a call for action to stop the nuclear reprocessing plant at Rokkashomura in Aomori prefecture, Japan.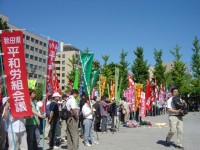 We are making the following demands:
1) We express our views about the actual damage due to radioactive contamination, in order to avoid rumours to spread.
2) We declare that we will independently measure radioactive contamination in order to protect the natural environment and the farming industry from increased levels of pollution.
3) We declare that we will cooperate with farmers and food producers, by connecting consumers to the land.
4) We call for opposition to radioactive pollution from the Rokkasho Reprocessing Plant, in order to protect the rich and plentiful natural environment, life and food, as well as the air and water.
(Call for action signed by Consumers Union of Japan and other consumer organizations and cooperatives – more groups are invited to participate)
UPDATE: On July 28, 2007 the meeting will be held in order to officially start the national network at German Culture Hall, Aoyama 1-Chome in Tokyo.
Everybody is welcome!