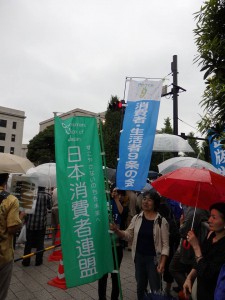 120,000 People Demonstrated Against War Bills
By Sugiura Yoko, Consumers Union of Japan
I participated in the large demonstration outside Japan's parliament on August 30, 2015, against the proposed war bills, demanding that the Abe government withdraw the bills. Our goal was that over 100,000 people would participate, but the organizers estimated that over 120,000 people showed up. It was the first time we brought the blue flag of our new group, Consumers and Citizens for Article 9. Together with Consumers Union of Japan's green flag, we shouted our slogan, "We oppose the war bills!"
"It's my first time to participate in a demonstration," said a friend as we walked together in the light drizzle.
The demonstration in central Tokyo was one of more than 300 all over the country during the weekend protesting Abe's move to loosen the post-war, pacifist constitution's constraints on the military.
We oppose the legislation that would allow Japan's military to fight overseas, and want to save Article 9 of the Constitution, the important peace clause that renounces war.
NHK's main news broadcast that evening at 19:00 didn't have our demonstration as the top news, but put it at third place. Anyway, my heart was beating hard as I watched the TV coverage of that important day's event. During the demonstration I was also able to hand out information about our meeting on September 14 with guest speaker Ms. Uehara Hiroko, former mayor of Kunitachi City, a long-time peace activist from the consumer movement.
Name: "Thinking about the War Bills from the Viewpoint of Our Livelihood"
Place: Iidabashi Central Plaza, 16 Fl., Tokyo
Date: September 14, 2015
Time: 14:00-16:00
Entrance: 500 Yen
(This is a translation based on a Facebook post over at our new Japanese Facebook page, do have a look and please Like & Follow!)