Consumers Union of Japan and the No! GMO Campaign participated in a four-day meeting in the Philippines in November, to discuss the risks associated with genetically modified organisms (GMO). Of particular interest was the ambush by the biotech industry in countries like Bangladesh, where they want to introduce BT eggplants (after failing in India). Also on the agenda was Vitamin A rice (see details below) that is currently tested in field trials by IRRI and others in Asia. Experts and activists from 12 countries participated!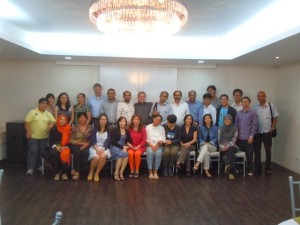 PRESS RELEASE
26 November 2013
FOR IMMEDIATE RELEASE
Contact person:
Nina Somera
Third World Network
Biosafety experts arrive in Manila, question Golden Rice
Respected scientists in the fields of agriculture and biosafety, Dr. Angelika Hilbeck and Prof. Jack Heinemann, are coming to Manila to share their assessment of Golden Rice's development. Golden Rice is a genetically engineered rice that is claimed to contain Betacarotene that can express Vitamin A and in turn, address Vitamin A deficiency (VAD) as well as blindness. Its proponents led by the International Rice Research Institute (IRRI) and the Department of Agriculture (DA) project that crop will be publicly released in 2016.
"The adequacy of human health and environment assessments for Golden Rice should address deficiencies in other food risk assessments especially because it is intended for use by an already vulnerable population of people. In addition, Golden rice release may create important liabilities for the Philippines. I caution against a release before these issues are properly addressed through scientific and socio-economic assessment," Heinemann points out. The Philippines does not have a biosafety law that can comprehensively lay down risk assessment processes, including liability and redress mechanisms, in cases of health impacts and contamination, among others. Yet it allows genetically engineered food and crops in the country, despite Republic Act 10068, otherwise known as the Organic Agriculture Act.
Similarly Hilbeck questions claims around Golden Rice as a remedy for VAD. It remains unclear, for instance, whether Golden Rice includes the pre-stages of Vitamin A such as the production of retinoids, a key component in anti-acne medication but in high dosage can be toxic. "GR does not totally address the causes of Vitamin A deficiency and for a 'non-curative medicine' that only treats symptoms, its proponents make far too big claims for it to be indeed a remedy," she asserts.
Both Heinemann and Hilbeck share that the hype around Golden Rice is a distraction from practical solutions to malnutrition. There are likewise doubts over the so-called, humanitarian approach on Golden Rice. "Golden Rice 2 is a 100% corporate invention and is 100% owned by Syngenta! The company retains full control of their patent rights," Hilbeck adds.
Heinemann is a professor of genetics and molecular biology in the School of Biological Sciences at the University of Canterbury, Christchurch, New Zealand and is the Director of the Centre for Integrated Research in Biosafety (INBI). Meanwhile, Hilbeck is a senior scientist at the Institute of Integrative Biology at ETH Zurich, with her studies focusing on agroecology and biodiversity, biosafety issues of GMOs and environmental risk assessments. Their expertise has contributed to the Cartagena Protocol on Biosafety. Both scientists are authors of the International Assessment of Agricultural Knowledge, Science and Technology for Development (IAASTD), a five-year research exercise that was mainly supervised by the United Nations (UN) and endorsed by many governments.