On the first Tuesday of every month, demonstrations will be held in front of the Prime Minister's Official Residence in Tokyo. Together we can stop the Trans Pacific Partnership (TPP)!
Consumers Union of Japan has joined together with other organizations to strongly voice our opposition to TPP. Starting in August, 2012, a new campaign strategy was initiated as we met in front of the Prime Minister's Official Residence in central Tokyo under the theme of stopping the TPP. Ordinary citizens who are opposed to TPP joined elected Parliament members, representatives from local municipalities, self-governing bodies, labour unions and farmers' organizations. Still, Prime Minister Noda and some parts of the government are urging Japan to join the controversial TPP negotiations. Since the decision to join appears to be imminent, we need to step up our protest activities in front of the Official Residence.
We invite everyone to join our next action meetings. The future dates are scheduled to be November 6, December 4, January 8 (first Tuesday of every month) at 18:00-20:00.
TPP is a way for American and Japanese multinational corporations to take control over the livelihoods of ordinary citizens. Consumers Union of Japan has been holding regular lectures since January, 2012 together with other NGOs about the related problems as seen from the perspective of consumers. During the course of these lectures, it became clear to everyone that TPP proposes unacceptable challenges and participation would be a huge mistake for Japan.
Lecture 1: "TPP problems viewed from the perspective of consumers"
Lecture 2: "Food labeling to be taken away from us"
Lecture 3: "Labour issues"
Lecture 4: "Medical treatment issues"
A total of six action meetings were held to "stop the rash act of TPP" from August 21 to September 25, 2012 in front of the Prime Minister's Official Residence in Tokyo, on each Tuesday between 18:00 and 20:00. Some 100-400 participants have joined the events. Each time, representatives from different regions and rural areas around the country have joined. Speeches were held to reveal problems related to agriculture, medical treatment, health insurance system, food safety etc.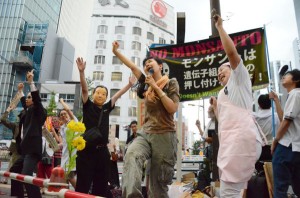 On September 18, 2012 the action event was tied together with the Occupy Monsanto campaign, with a protest rally outside the offices of the US biotech giant Monsanto's head office in Tokyo, followed by a parade that went to Ginza and the Prime Minister's Official Residence. Occupy Monsanto is an international effort to protest against genetically modified organisms and GM food.
Occupy Monsanto (E)
Different protest actions are planned for the coming months. In November, the event is held on Tuesday, November 6 from 18:00 to 20:00. This coincides with the US presidential election. The theme of the event will be to discuss what we can do about the situation as it is said that the brief time period directly after the US presidential election is the most dangerous time in terms of joining in the TPP negotiations. Let us raise our voices even more loudly and together stop TPP!
Campaign updates: http://notpp.jp/TPP_kantei.html (J)