Food Inc. Director Robert Kenner To Visit Tokyo And Osaka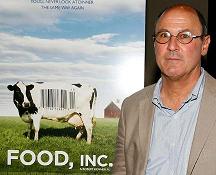 CUJ is glad to be able to invite US documentary director Robert Kenner to Japan. His film Food Inc. is a great exposure of the way the food industry and especially Monsanto have hijacked farming and food processing, creating a situation where it is almost impossible for consumers to know what we are eating. While the focus is on the US agribusiness, it also applies to practices in many other countries, and the frequent abuse against farmers, food factory workers, animals and the biodiversity on our planet.
Robert Kenner is an Emmy-Award winning film maker. He will participate at three screening events and give talks while in Japan. Everyone is welcome!
Tokyo: May 19 (Sat) 13:30-18:00
Tokyo Women's Plaza (Omotesando station)
http://www.tokyo-womens-plaza.metro.tokyo.jp/
Entrance Fee: 1,000 Yen
Tokyo: May 21 (Mon) 14:00-16:00
House of Representatives 2nd Bldg, Multi-purpose Hall (1st Floor)
(衆議院第2議員会館 1階 多目的ホール)
Entrance Fee: Free
Osaka: May 22 (Tue) 13:30-17:30
Osaka International House Center
http://www.ih-osaka.or.jp/english/
Entrance Fee: 1,000 Yen
Organized by Japan Citizens' Network for Sustainable Food and Agriculture
Posted May 9th, 2012 in Food