Some banks and pension funds have rules about what kind of companies they invest in. For example, ethical investment means the funds do not support companies involved in weapons manufacturing or environmental destruction. Human rights and labour rights are other issues that many people should urge their banks to support.
Since starting in 2009, a Dutch initiative has grown into an international campaign, Fair Finance Guide. Now, Japan also joins this great project, started by A Seed Japan, JACSES and PARC. They have carefully investigated five of Japan's largest banks. Their new website (http://fairfinance.jp)* will help you compare their score on a range of issues.
For example, Mizuho Bank scores relatively high on transparency, but low on environmental issues like forestry protection. All five get "Zero" for their investments in armaments, except Mitsui Sumitomo Trust, that scored "One" which is still terrible. Resona scores worse than the others on climate change and food issues (including GMO and pesticides). No bank scored a perfect "Ten" any of the issues, as determined by Fair Finance Japan.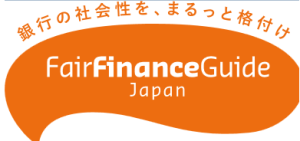 There is clearly room for improvement. You can help by clicking on the links on the website. A message will be sent to Fair Finance Japan and then directly to the different banks. In Europe, reports about how banks invest in questionable corporations have led to the emergence of a large number of ethical pension funds, as people increasingly want their life savings to support good practices. I think this is a really good idea!
*Fair Finance Japan is supported by SIDA
(English version of Martin's essay published in CUJ's Shouhisha Report No. 1570)