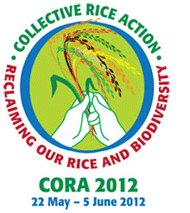 An Appeal from the NO! GMO Campaign in Japan
As part of our participation in Collective Rice Action (CORA) 2012
June 1, 2012
Protect life and biological diversity; oppose genetically modified food and TPP!
We are very concerned about the efforts by the government, business interests, and mass media to get Japan to join the Trans Pacific Partnership (TPP) Agreement*. We hold that globalization is robbing us of the safety of the food we need to live, while destroying the natural environment, expanding poverty, and creating a society with huge differences between rich and poor, with little hope for our future. TPP is going to make things even worse as it pushes the globalization agenda even further. Moreover, the food rules of the United States or multinational corporations are promoted, especially in the push for world hegemony through the introduction of genetically modified (GM) foods. TPP will have a destructive influence on agriculture in Japan. The farmers here would not be able to survive, and we would constantly have concerns and fears about the dangers of the food on our tables. For example, food labeling rules may be changed for the worse so that we no longer know what it is we are eating.
Currently, the food from Japan's own islands may be contaminated with radioactivity due to the Fukushima disaster. Our self-sufficiency, meaning the ability to feed our own people, and the safety of our food are under threat. If Japan enters TPP then GM food and GM crops would be forced upon us in large quantities,posing a risk to both farmers and our food. While we are strongly opposed to TPP and GM, we wish to protect agriculture in Japan, protect the food on our tables, and protect life and biological diversity.
*TPP is a new type of regional free trade agreement that goes beyond WTO rules in many areas and will have many detrimental effects for farmers and consumers. We interpret it to mean that Japan will be forced to further liberalize according to the agenda of multinational agribusiness corporations.
– – – – – – –
From 22 May to 5 June 2012, 14 countries in Asia will band together for the COLLECTIVE RICE ACTION (CORA) 2012. People's organisations, farmers, rural women, and rice consumers from PR China, Japan, Korea, Cambodia, Thailand, Philippines, Indonesia, Sri Lanka, India, Pakistan, Nepal, Bangladesh, Malaysia and Iran will be "Reclaiming Our Rice and Biodiversity!" — the theme for CORA 2012.
CORA was launched as the Week of Rice Action in 2007. Since then, the impacts of the campaign have reverberated throughout the region, mobilizing millions of people to participate in rallies, workshops, festivals and other advocacy activities. CORA 2012 follows in the successful legacy of WORA 2007, WORA 2008, YORA (Year of Rice Action) 2009-2010 and CORA 2011. This is the first time Iran is joining the CORA campaign. CORA 2012 which will also be a run-up the CBD (Convention for Biological Diversity) Conference of the Parties and Meeting of the Parties in October, 2012 to be held in India.