Report from IFOAM Organic World Congress Part 1
I had the opportunity to participate together with organic farmers and activists from Japan during the IFOAM Organic World Congress held in South Korea in September, 2011. It was the first time the global federation of organic associations held such a large meeting in Asia. Here we will briefly summarize some of the main lessons from Japan as they are relevant to consumers, farmers, and everyone around the world.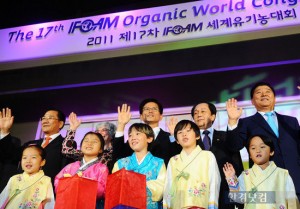 Japan Organic Agriculture Association (JOAA) was founded in 1971 and has pioneered so-called Teikei systems, meaning close links between a farmer and a group of consumers. It is similar to Community Supported Agriculture (CSA) but Teikei creates stronger connections that also allow the farmers to support the community and the consumers. During the IFOAM conference, Kubota Hiroko, Hayashi Shigenori, and Wakashima Reiko explained Teikei in detail. The workshops were lively with discussion and many questions from the participants from around the world.
Continue reading Organic Farming in Japan: Lessons for the World →