Here is the presentation made by Yasuaki YAMAURA, Secretary General of Consumers Union of Japan (CUJ), as one of the programs at the World Foodless Day in Tokyo on October 16, 2008.
The Present Situation of the Food Crisis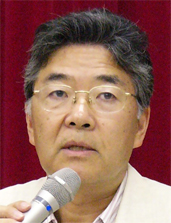 In April 2008, rice prices started to increase rapidly in the Philippines and several parts of Asia. This induced hoarding and export restrictions of grains, which in turn led to even higher grain prices around the world. There were food riots happening in a number of countries.
This also affected Japan, as increasing general food prices hit Japanese consumers hard. In addition, we experienced the problem of frozen gyoza made in China, contaminated by a very toxic insecticide. On top of that, there was a scandal of wrongfully distributed pesticide-tainted or moldy rice for human consumption, and melamine-contaminated milk products produced from imported milk. Such events caused deep anxiety among many consumers.
Continue reading What Caused the Food Price Hikes During 2008? →