Asia-Pacific Economic Cooperation (APEC) is an economic forum promoting the liberalization and facilitation of trade and investments, economic and technical cooperation, and related issues. Many NGOs from Japan and other coutries participated in the No! APEC Yokohama People's Forum.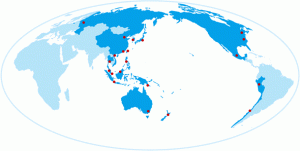 Yokohama People's Declaration (Summary)
November 14,2010
The No! APEC Yokohama People's Forum gathered on November 13-14, 2010 in Yokohama, Japan to protest against the APEC meeting held in the city. The executive committee consists of various individuals, citizens, workers, labour unions, civic groups, NGOs, and gender groups who oppose the Asia-Pacific Economic Cooperation (APEC), issuing the following joint declaration:
The official Yokohama Vision presented at the APEC meeting has three pillars: regional economic integration, growth strategies, and secure communities. It boasts of the high economic growth in the Asia-Pacific Ocean nations, clinging to the myth of future economic growth. The content related to secure communities appears to despise the real security of citizens, instead valuing security of capital. We oppose the APEC Yokohama Vision, because it does not at all reflect the voice of the general public.
The following is a summary of the issues we discussed in great detail in subcommittee meetings. Consequently, the views were confirmed by all of the participants in the No! APEC Yokohama People's Forum. Continue reading Yokohama APEC People's Declaration →