Put the implementation of the "My Number" system on hold!
From October 2015, the people living in Japan will get a notice in the post from the government, including foreigners. It will contain an ID number consisting of 12 digits.
All Japanese citizens and foreigners who reside in Japan will be included in the new system.
The government claims that the system is necessary "to manage information efficiently in the fields of social security, tax and disaster management." But it will also cover many other issues, including giving the government access to data about bank accounts and even medical information.
There is also a controversial proposal to link the ID number to applications for reduced rates when the consumption tax will be increased from 8% to 10%. We can certainly imagine how the My Number system will continue to cause increased anxiety about privacy and personal integrity.
Consumers Union of Japan opposes the My Number system that allows the state to unify and centralize all information about citizens. We demand that the implementation of the system, which was decided on September 3, 2015, should be put on hold.
We ask that people should have the right to opt-out of the system and that compensation issues must be clarified. Individuals should not be forced to prove damage in the legal sense in cases of data leaks of ID number related information.
CUJ's letter to protest the My Number System to Prime Minister Abe (J)
More details in The Japan Times: Ready or not, government will soon have your My Number (E)
Japanese Government explains the new Social Security and Tax Number System (E)
Posted September 21st, 2015 in Civil Rights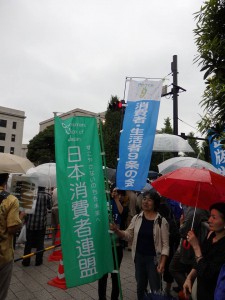 120,000 People Demonstrated Against War Bills
By Sugiura Yoko, Consumers Union of Japan
I participated in the large demonstration outside Japan's parliament on August 30, 2015, against the proposed war bills, demanding that the Abe government withdraw the bills. Our goal was that over 100,000 people would participate, but the organizers estimated that over 120,000 people showed up. It was the first time we brought the blue flag of our new group, Consumers and Citizens for Article 9. Together with Consumers Union of Japan's green flag, we shouted our slogan, "We oppose the war bills!"
"It's my first time to participate in a demonstration," said a friend as we walked together in the light drizzle.
The demonstration in central Tokyo was one of more than 300 all over the country during the weekend protesting Abe's move to loosen the post-war, pacifist constitution's constraints on the military.
We oppose the legislation that would allow Japan's military to fight overseas, and want to save Article 9 of the Constitution, the important peace clause that renounces war.
NHK's main news broadcast that evening at 19:00 didn't have our demonstration as the top news, but put it at third place. Anyway, my heart was beating hard as I watched the TV coverage of that important day's event. During the demonstration I was also able to hand out information about our meeting on September 14 with guest speaker Ms. Uehara Hiroko, former mayor of Kunitachi City, a long-time peace activist from the consumer movement.
Name: "Thinking about the War Bills from the Viewpoint of Our Livelihood"
Place: Iidabashi Central Plaza, 16 Fl., Tokyo
Date: September 14, 2015
Time: 14:00-16:00
Entrance: 500 Yen
(This is a translation based on a Facebook post over at our new Japanese Facebook page, do have a look and please Like & Follow!)
Posted September 3rd, 2015 in Civil Rights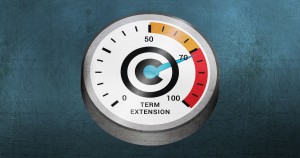 Guest post over at Electronic Frontier Foundation (EFF) about copyright issues and the Trans Pacific Partnership negotiations – did Japan move closer to the US positions during the recent Maui talks in July, 2015? Martin J. Frid, with Jeremy Malcolm, formerly at Consumers International:
Japan's entry into the Trans-Pacific Partnership (TPP) will see a wide range of changes sweeping the economy and the community, in areas as diverse as food safety/food security, country of origin labeling rules, and copyright. As a staff member of Consumers Union of Japan, I am concerned about all of these issues—but I'm writing here about the copyright changes, which unlike in many other TPP countries have sparked national attention.
Copyright has been a sticking point for Japan in its trading relationship with the United States dating all the way back to 1945, when Japan was required to award the victors of the Second World War with 10 years of additional copyright protection. The U.S., Australia, and New Zealand are still benefiting from that even now, and Japan has asked for this to be rolled back in the TPP.
But the U.S. negotiators are demanding the opposite: like five other TPP countries, Japan is being asked to extend its copyright term by another 20 years, from life of the author plus 50 years as the Berne Convention requires, to life plus 70 years, and even longer for corporate-owned works. This is a proposal that Japan has considered repeatedly and rejected on the grounds that it would not benefit Japanese creators. Yet the U.S. will not take no for an answer.
In addition, Japan is being asked to adopt stricter copyright enforcement rules, including sky-high statutory damages awards, and the ability for police to take criminal action against alleged copyright infringers, even if the copyright owner does not file a complaint.
Japanese Creative Sector Speaks Out
The Japan Playwrights Association, the Japan Theatrical Producers Association, and the Japan Theatre Arts Association jointly issued an appeal, opposing the Japanese government's participation in the TPP negotiations. Their appeal expresses strong concern that controversial issues on intellectual property rights are negotiated without any prior public debate in Japan.
Read the rest at EFF
Posted August 13th, 2015 in Civil Rights, TPP
On August 4, 2015, Consumers Union of Japan participated in the meeting in the Japanese Parliament on the issue of the restart of the Sendai Nuclear Plant No. 1 reactor in Kagoshima prefecture, southern Japan.
Mr. Naoto Kan, the former Prime Minister at the time of the Fukushima Nuclear Plant accident in 2011, attended the meeting where two officials from the Nuclear Regulation Authority (NRA) were invited by Mr. Kan to answer questions between 1:30 and 5:00 PM.
It is 31 years since the Sendai Nuclear Plant's oldest reactor first began operating on July 4, 1984. Construction started in 1979. Japan now has rules that state that nuclear plants that have been operating for over 30 years must go through thorough checks, and the company operating nuclear reactors must submit reports when a reactor reaches that limit. That has not been done properly until now in the case of Sendai. For example, the owner is required to draw up long-term measures to ensure the safety of equipment, which NRA said can be done later… Also, in the report just submitted by Kyushu Electric, there are parts that have been blacked out for "corporate secrecy" reasons!
Even so, today on August 5, the NRA approved the restart of this old nuclear reactor.
Participants at yesterday's meeting, including Mr. Kan, requested the NRA officials not to approve the restart of such an old and possibly unsafe nuclear plant. The procedure is not following the guidelines or laws of nuclear plant operation. However, the officials during the meeting yesterday repeatedly claimed that it would not be against any law to make a decision today, in spite of the concerns raised.
We should keep raising our strong voices against this decision-making process.
We continue to oppose the restart of the Sendai Nuclear Plant No. 1 reactor in Kagoshima.
Report by Koa Tasaka, chairperson of CUJ
Posted August 5th, 2015 in Civil Rights, Energy, Nuclear
Here is Japan Resources, the online magazine from Consumers Union of Japan. We started this service back in the 1980s as a photo-copied effort to spread information about current issues in Japan, in English. We hope you help spread it to friends and colleagues. Do quote our articles and use them – we enjoy your feedback and appreciate the concern earlier this spring when the CUJ website was down, as we changed server to a more consumer-friendly company!
– Editors
Please download Japan Resources JR 162 (pdf file) January-July 2015
CUJ Resolutions
"Function Claims" Not the Same as Actual Benefits for Consumers
GMO Free Zone Meetings
Fair Finance Japan
Symposium & Documentary Film Events
Japan's Booming Tourism Industry Needs a Reality Check
Posted July 8th, 2015 in Japan Resources