Please click here: CUJ-JR-164 for the latest issue of Consumer Union of Japan's English newsletter, Japan Resources (pdf). The theme this time is to highlight the 20th anniversary of the No! GMO Campaign.
Contents:
From the Editors: Japan's Anti-GMO Campaign
Event: Petition Campaign for Better Labelling of Genetically Modified Food
Event: Supporting Japanese Non-GM Soybeans
From Bio Journal:

GMO-Free Zone National Conference Held in Sendai
Ministry of the Environment releases a draft of its revised Cartagena Law
20 Years of Anti-GMO Work
Newsflash:
Five Years after the Nuclear Disaster in Fukushima
Epidemiological Studies Show a Rapid Increase in the Occurrence Rates of Thyroid Cancer
Interview with SACOM's Sophie Chen: "Violation of Human Rights at UNIQLO Factories Continues"
Fast Retailing (FR) has grown to become Japan's top fashion enterprise, known for selling high quality clothes at relatively low prices under the brand name UNIQLO. One would assume that such high performance is due to efforts including planning and reducing waste in the entire chain from production to sales. Instead, there is a dark side to the success of FR and UNIQLO including long overtime conditions and general violations of workers' human rights. Consumers Union of Japan talked to Sophie Chen at the Hong Kong-based NGO Students and Scholars Against Corporate Misbehaviour (SACOM) when she visited Tokyo in March, 2016, together with Human Rights Now. This was her second visit to Japan after revealing the results of SACOM's first investigation in January, 2015.
Q: Please tell us about the purpose of your second visit to Japan!
A: In January 2015, Students & Scholars Against Corporate Misbehaviour (SACOM), Labour Action China (LAC), and a Tokyo-based organization, Human Rights Now, jointly launched the first investigation into labour conditions at two of UNIQLO's key suppliers in China: Pacific Textile Ltd (Pan Yu) and Dongguan Luen Thai Garment Co., Ltd. Fast Retailing acknowledged the validity of several of our findings. In July 2015 they released a CSR action report listing the corrections they claimed to have done. For example, they suggested reducing the amount of overtime at the factories and a renewal of the drainage system to avoid exposure to toxic chemicals. Following this, we completed a follow-up investigation to examine whether the corrective measures FR claimed had in fact been done, and to check the current working condition in both factories. We found that employers still don't pay the mandatory social insurance premiums, which include pension and maternity leave insurance. Workers are not educated about the risks associated with chemicals, and protective gear is not made available. As for overtime, it is still not unusual for workers to do up to 150 hours a month, in addition to their regular 160 hours.
The purpose of this visit is to make Japanese consumers aware of the violations against workers' human rights in new factories in China and Cambodia. This is the reality. For example, labour unions that should represent the workers and propose improvements are being pressured by the factory owners, and fair union elections are difficult to carry out. There have even been cases of dismissal and police arrests of union leaders.
Q: What does Fast Retailing say?
A: Well, the factories that makes UNIQLO's clothes insist that the responsibility lies with Fast Retailing, but at the same time, the brand itself is where the real profits come. Thus UNIQLO's role in the big supply chain means that they should shoulder the largest responsibility. It could be argued that the severe working conditions are a direct result of FR's high quality standards. Factories that don't deliver will not get the contracts, and penalties are imposed when there are delays or issues. Due to the low profit margin at the factory level, the workers' salaries are low. This means that workers must work overtime to be able to make a living. Companies like H&M have shown that it is possible to step in and change the conditions for the factory workers that supply their clothes. We are simply asking Fast Retailing to make these changes.
Q: What can consumers do?
A: When buying clothes, people need to think about the working conditions and imagine the situation that those who make them are in. When consumers start making an appeal to producers, their voices cannot be ignored. For example, it is effective to ask Fast Retailing about their CSR report. It will also be necessary to accept that we have to pay a higher price. It is worth pointing out that the inexpensive clothes are the reason people are being exploited. Don't you think it is important to walk around dressed in a way that you know you have paid a fair price for?
(Interview by Yoko Sugiura & Kaori Hirouchi. Article first published in CUJ's newsletter, Shouhisha Report No. 1584 April 20, 2016))
Epidemiological Studies Show a Rapid Increase in the Occurrence Rates of Thyroid Cancer
CUJ interviewed Okayama University professor Toshihide Tsuda, who published an epidemiological study on the occurrence rate of thyroid cancer in Fukushima prefecture in October, 2015. Dr. Tsuda is known for his expert opinions on a range of pollution related cases, including the Minamata disease. He held a press conference on October 8, 2015 to discuss the findings of his team, revealing a rapid increase of 20-50 times in the rate of thyroid cancer among infants in the disaster-stricken prefecture compared to national levels. While media in other countries published reports about his concerns, the Japanese press did not seem to take his warnings seriously.
Q: What can you say about the health risks associated with the Fukushima nuclear accident in 2011?
A: It hasn't been reported much, but a risk assessment was done in 2013 by the World Health Organization (WHO). They noted that the health risks involve thyroid cancer, leukemia, breast cancer and other types of cancer. We have now reached the incubation stage when it would not be strange or surprising to begin to observe the frequent occurrence of thyroid cancer or leukemia.
When we calculated the rate of thyroid cancer that was found in medical examination of infants and children younger than 18 years old in Fukushima prefecture, there is a large area, excepting the north-eastern towns, where the occurrence rates are 20-50 times higher than the national average. We also note that this is happening at a faster pace than we had expected. Also, from the Chernobyl accident, we know that the rates continue to increase beyond when people reach 18 or 19 years old, so we can expect the same for Japan in the years to come. In my view, since the rates are already high in the southern parts of Fukushima prefecture, we also ought to examine children in neighboring Ibaraki prefecture.
Q: Meanwhile, the government is saying that it is difficult to conclude that the nuclear accident is the cause of the frequent occurrence.
A: It is clearly proven that radioactive Iodine easily gets concentrated in the thyroid gland and that it is a major cause of thyroid cancer. It is also clear that radioactivity can cause other health problems and diseases. But for each case, we won't have the actual proof until people start dying, which is obviously too late. I don't know what the people in charge should be doing or saying. I suppose it is best to follow the same protocol as when we have a large-scale food poisoning case. We should be defending the health of the people; that is the first rule. So, while we assume that damage has already been done, I think we need to do more.
Q: What can we do as citizens?
A: Even if you can't move away from the areas in question, there are ways to reduce the exposure as much as possible. It is important to be aware of the amounts of radioactivity in the place you live. It seems that right now, there is not so much sharing of ideas going on. But as time goes by, with a continued increase in occurrences, we may even run out of operation equipment. At present, about one student in every high school in Fukushima prefecture is diagnosed with thyroid cancer, but there are places where it is as high as three students already. Soon that number could be one child in each class.
When we are talking of probabilities, there is a huge difference after you have been told that you have cancer. Then your number is 100%. It is also true that while people rarely die from thyroid cancer, you will have a scar for life after the operation, and you will have to take medicines. The problem is not that it can be removed through surgery. What we should do is to prevent the frequent occurrence of this disease through proper measures.
Read more:
The Mainichi: Experts divided on causes of high thyroid cancer rates among Fukushima children
The Japan Times: New report links thyroid cancer rise to Fukushima nuclear crisis
PBS Nova: Study Suggests That Children Exposed to Fukushima Accident Are Developing Thyroid Cancer
(Interview by Yoko Sugiura. Article first published in CUJ's newsletter  Shouhisha Report No.1582 Feb 20, 2016)
Consumers Union of Japan and the No! GMO Campaign are working together to support Japanese farmers who want to grow more soybeans for domestic consumption. On February 23, 2016, the 18th annual meeting of the Soybean Trust Movement was held in Jiyugaoka, Tokyo as a way for consumers and farmers to meet and discuss the many issues involved.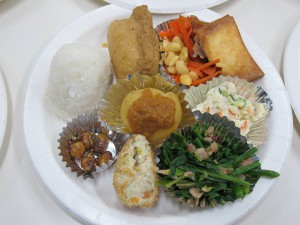 In 1996, the first genetically modified soybeans were imported to Japan from North America. This led to the formation of the Soybean Trust Movement as a way to counter the threat to Japanese traditional foods like tofu, miso and soy sauce that are made from soybeans. The aim is to increase Japan's food self-sufficiency rate for this important source of protein and nutrients.
Ms. Setsuko Yasuda from the 21st Century Food Policy Vision spoke about the Trans Pacific Partnership agreement and new risks to food, while Keisuke Amagasa from the No! GMO Campaign made a presentation about the current status of GM foods and agriculture. Osamu Tsuchida from Tokyo Shinbun discussed the "land grab" problems associated with the plans that Japan's government has to promote soybean farming in Mozambique.
Currently, the United States has just approved GM salmon, and there are new issues involving Du Pont's controversial techniques to edit the genome. This could make it possible to bypass the legislation for older ways to genetically modify living organisms and GM food. On the other hand, there is an increasingly strong movement in the US to make labelling of GM foods mandatory. Here in Asia, we have recently learnt that Taiwan decided to ban GM foods in school lunches while also introducing stricter GM labelling rules.
A delightful lunch was served with organic soybeans from the Shumei Natural Farm Network (E). Clearly, growing soybeans is no easy task, and more efforts are needed to make more consumers aware of this important movement in Japan.
By Yoko Sugiura, CUJ
Last year, at the beginning of 2015, I wrote the following: "In order to avoid war and aggression, we should work towards peace and make sure we have a government that keeps peaceful relations with Japan's neighbours in East Asia, and not engage in exporting weapons. I would like to maintain Japan's Peace Constitution as a true deterrent, and not rely on military alliances which lead to the endless escalation of armament in our region of the world." Unfortunately, during the past year we have seen the government move in exactly the opposite direction. In particular, on October 1, 2015 the Acquisition, Technology & Logistics Agency (ATLA) under Japan's Department of Defense was established. Using tax payers' money, armaments are being imported from other countries, while Japan prepares to start exporting domestically produced weapons and weapons systems. In my opinion, engaging in trade with weapons that kill indiscriminately is a shameful act. Aiming to make profits in such a way, the Abe administration made this a national policy. Instead, it is my sincere wish that during this new year, we should work towards demilitarization and finding peaceful solutions for the conflicts that are causing so much suffering. I strongly believe that most people agree that this is a better way forward towards world peace.
(Koa Tasaka is co-chair of CUJ)