Last year, at the beginning of 2015, I wrote the following: "In order to avoid war and aggression, we should work towards peace and make sure we have a government that keeps peaceful relations with Japan's neighbours in East Asia, and not engage in exporting weapons. I would like to maintain Japan's Peace Constitution as a true deterrent, and not rely on military alliances which lead to the endless escalation of armament in our region of the world." Unfortunately, during the past year we have seen the government move in exactly the opposite direction. In particular, on October 1, 2015 the Acquisition, Technology & Logistics Agency (ATLA) under Japan's Department of Defense was established. Using tax payers' money, armaments are being imported from other countries, while Japan prepares to start exporting domestically produced weapons and weapons systems. In my opinion, engaging in trade with weapons that kill indiscriminately is a shameful act. Aiming to make profits in such a way, the Abe administration made this a national policy. Instead, it is my sincere wish that during this new year, we should work towards demilitarization and finding peaceful solutions for the conflicts that are causing so much suffering. I strongly believe that most people agree that this is a better way forward towards world peace.
(Koa Tasaka is co-chair of CUJ)
Posted February 10th, 2016 in Civil Rights
Consumers Union of Japan, the No! GMO Campaign and Food Safety Citizen's Watch will hold an event in the Japanese Parliament to present the results so far of our petition campaign to collect signatures for better labelling of genetically modified food. The event will be an opportunity to discuss GM food in light of the new realities presented by the Trans Pacific Partnership (TPP) that may soon be signed by 12 countries, including Japan. The TPP agreement also deals with cross-border trade barriers, and could mean that other countries or corporations may challenge Japan's food labelling laws.
Since August, 2015 a large number of consumers have signed our petition to improve the mandatory GM labelling laws from 2000 to include all GM foods, and to lower the limit at which foods with GM ingredients must be labelled, which is currently 5% (for example, the limit in the European Union is 0.9%). We are strongly urging the Minister for Consumer Affairs and Food Safety to instruct the Consumer Agency to push for improved labelling of all GM foods in Japan, based on the fundamental principles of the consumers' right to know and right to choose.
Date: January 27, 2016
Time: 13:30-15-30
Location: House of Representatives (Shugiin) 2nd Bldg. Hall 1, Nagatacho, Tokyo
Posted January 20th, 2016 in Biotechnology, TPP
Please click here: CUJ JR 163 for the latest issue of Consumer Union of Japan's English newsletter, Japan Resources (pdf). The theme this time is Consumers and the Constitution.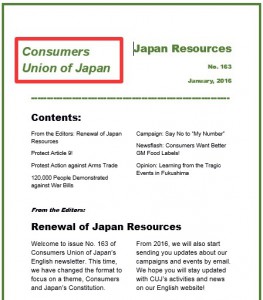 Posted December 16th, 2015 in Japan Resources
Consumers Union of Japan again participated in a large demonstration against the changes in Japan's constitution. The event was held on November 19, 2015 outside the Parliament in Tokyo, and some 9000 people participated. We were joined by our new group, Consumers and Citizens for Article 9, and the photo shows our two flags at the evening protest as we wish to collect 20 million signatures until April, 2016 to abolish the changes made to the popular "Peace Clause" of the post-war constitution.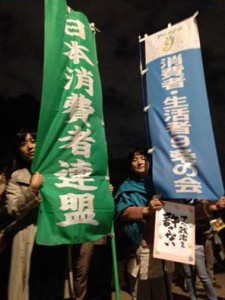 (This is a translation based on a Facebook post over at our new Japanese Facebook page, do have a look and please Like & Follow!)
Posted November 24th, 2015 in Civil Rights
The famous fish market in Tsukiji, Tokyo will move to a new location. Doubts remain about the safety of the Toyosu site, which formerly hosted a large coal plant for making city gas.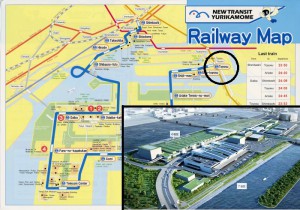 It has been found to be contaminated with a high level of chemicals, including benzene (which was 43,000 times above environmental safety standards) and cyanogens (860 times above environmental safety standards). Other toxins that were detected on the site include arsenic, mercury and cadmium. The Japan Times notes:
Naturally, existing operators in the market have expressed concern over the move. Makoto Nakazawa, secretary-general of the Tokyo Central Market labor union, is one of them. Nakazawa has worked inside Tsukiji fish market for about 30 years as a turret truck driver for an intermediate wholesaler. He claims there are a number of unresolved problems regarding Toyosu and believes the government should abandon its plan. (…)
Nakazawa has been organizing demonstrations with such organizations as the Consumers Union of Japan, opposing the relocation and calling on the municipal government to focus on renovating Tsukiji fish market instead.
As time ticks away, however, Nakazawa admits that most of the people openly opposing the relocation aren't directly involved in the running of the market.
In February this year, Nakazawa surveyed 650 intermediate wholesalers regarding their views on the relocation. Out of the 254 respondents, 70 percent, or 179 shops, said construction for the new facility should be suspended until the area is completely toxin-free.
A further 55 percent said that the Tokyo Municipal Government gave little or no explanation on the details of the relocation to Toyosu. Their main concerns centered on the running costs of the new facility — the details of which, including the monthly expenses, have not been disclosed — and the contamination of the area.
"In truth, most people don't want to move," Nakazawa says. "I can, however, understand why many have given up. They may be experts on fish but fighting against the government is tough."
Read the entire article: Tsukiji Countdown (E)
Related: Moving Tokyo's Fish Market: Tsukiji In Trouble (E)
Posted November 4th, 2015 in Chemical pollution, Food